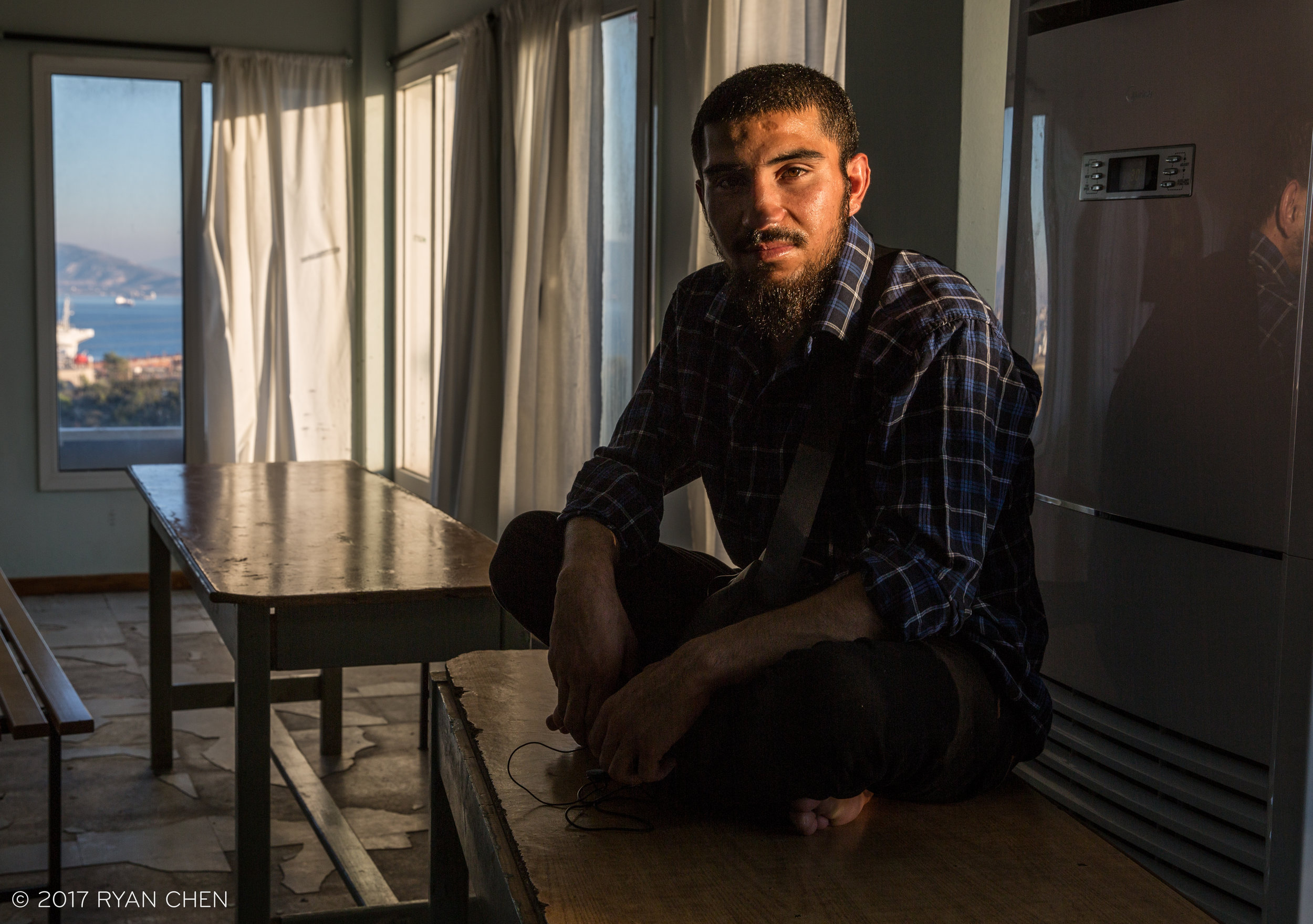 The European Refugee Crisis
The war in Syria has sparked the worst refugee crisis in recorded history. While the effects have not fully hit us in the U.S., its impact in Europe and the Middle East is unprecedented. According to the United Nations High Commissioner for Refugees (UNHCR), "4.8 million have fled to Turkey, Lebanon, Jordan, Egypt and Iraq and 6.6 million have been internally displaced within Syria."
In August 2015, German Chancellor, Angela Merkel announced an open door policy to immigrants fleeing war zones. Over 800,000 refugees from Syria, Afghanistan Iraq and Iran crossed the Aegean Sea from Turkey into Greece. Many attempted to travel through the Balkans with the hopes of gaining asylum in Western Europe. However, countries along the Balkan route closed their borders and/or tightened up security measures resulting in 50,000 refugees trapped in Greece.
Here Ellinko refugee camp is surrounded by empty spectator seats in the former olympic baseball stadium, Athens, Greece.
NetHope: Installing Wi-Fi on Leros
Google.org grantee NetHope, has been installing Wi-Fi hotspots in refugee camps across Greece to aid those who have been trapped. In order to access vital information and loved ones, internet is as important as food and water. This film and the following photos were captured during a technical deployment with NetHope in December 2016.
NetHope
Google volunteer, Charles Hall (pictured right) working on an installation. The man to the left was so anxious to get Wi-Fi he climbed up the ladder to help, Koutsochero Camp, Larisa.
NetHope contractor, David Tagliani works on an access point up in the bleacher seats of the stadium, Elliniko Camp, Athens.
A Syrian refugee in Koutsochero camp shares photos with me via his Facebook account. Nearly every refugee relies on the internet to find out how to seek asylum or determine next step in their journey. Koutsochero Camp, Larisa.
Syrian and Iraqi refugees line up for rations at Koutsochero camp.
A child riding his tricycle in Ellinko camp which is situated in the former olympic baseball stadium in Athens.
Cisco volunteer Mike Papadodimas working through the night to get network connection up and running in Lepida Camp, Leros Island.
NetHope volunteers David Cryer, Mike Papadodimas (Cisco) and Charles Hall (Google) preparing to install an access point, Diavati Camp, Thessaloniki.
Charles Hall (Google) wraps up the night after an installation, Andravida Camp.
A Syrian woman and her son inside their dilapidated tent in Diavati Camp. I was welcomed into their tent where they shared tea to keep warm in the cold winter day. Diavati Camp, Thessaloniki.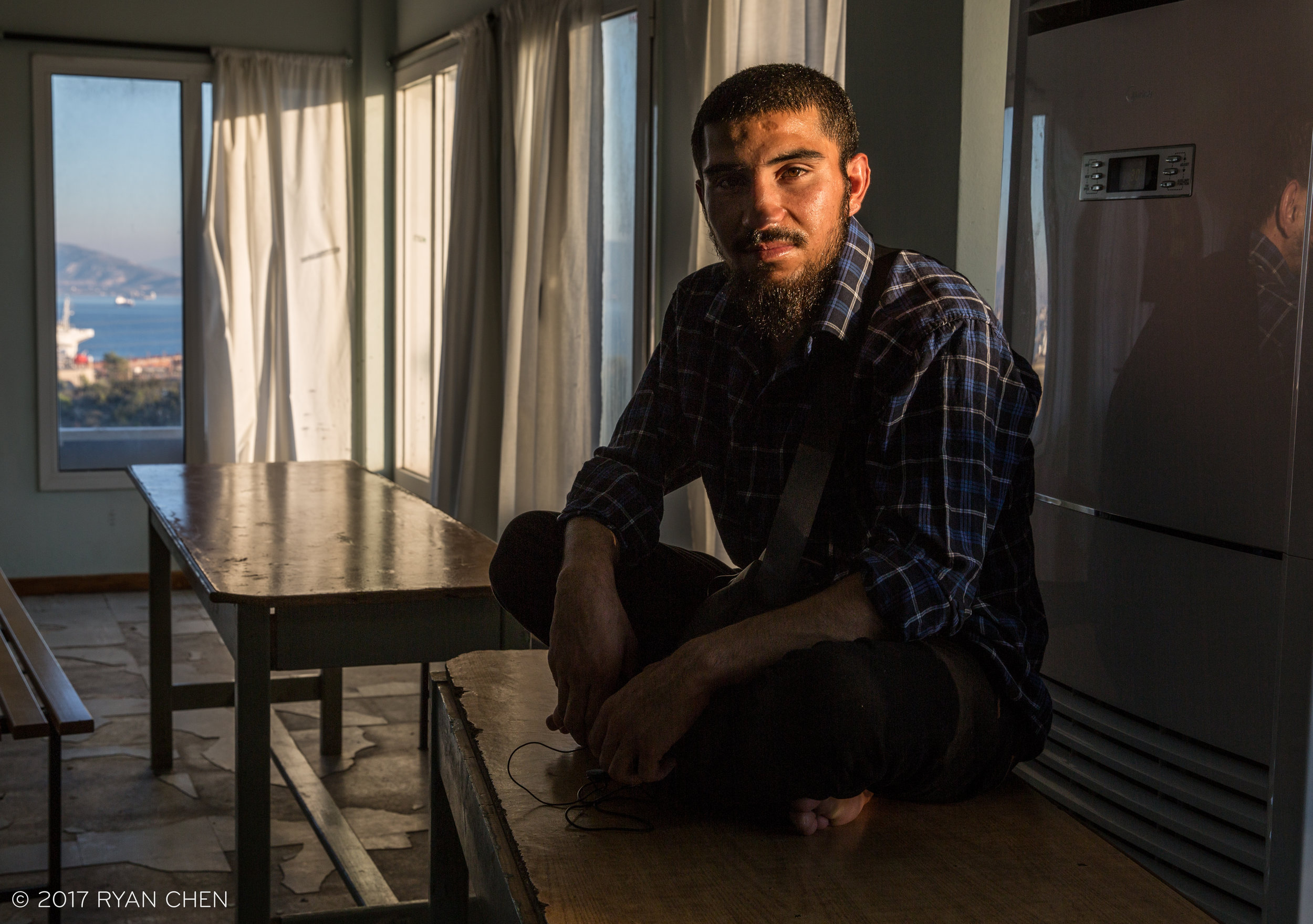 Mohammad is a refugee from Afghanistan. His brother had fought alongside coalition forces and was later killed by Taliban in Kandahar.
The Ellinko camp is the former Athens international airport. It is now home to over 600 mostly Afghan refugees. Syrian refugees are given the highest priority and the nicest (relatively speaking) camps while Refugees from other countries such as Afghanistan, Iraq or Iran are treated as second tier applicants.
Unable to work in Greece or find legal ways to get into other E.U. nations, Afghan refugees find themselves stuck in miserable conditions of Elliniko camp. Ironically this encampment is located in the departure hall of the former Athens Airport.
Ajmal, an Afghan refugee with his twin daughters in front of his tent in Elliniko camp, Athens.
Mirwais is 17 and a half year old from Kapisa, north Afghanistan. He left Afghanistan with his father, mother, two brothers, two sisters and one uncle. They travelled to Iran, hiked through the snowy mountains arriving in Turkey. They arrive by boat in Greece in February 2016 and now live in the Ellinko camp. This is his tent where lives in the Ellinko departure hall of the old Athens airport.
Zaher is a hazara Afghan who had immigrated to Iran when he was 11. Due to the on going discrimination of Afghans in Iran he fled to Europe with his wife, and three daughters. They arrived in Greece in March of 2016. His wife and two of his daughters were able to make it to Germany. I met Zaher in Eleonas Camp with his third daughter.
Besil was a journalist student in Hama. He had taken this photo with his smart phone when a helicopter from Assad's regime dropped a barrel bomb on a cemetary.
Kooshi, a Yazidid woman lives in Larida camp on Laros Island with her three sons. Her husband was killed in Iraq.
Iraqi Yazidis refugee boys riding the camp bicycle that has no tires or brakes. They all take turns or all ride it at once.